This page is dedicated to showing some of Mattel's latest 12" action figure

MAX STEEL product line.  If you wish to contribute please email your photos or stories to
sflgijoe@aol.com.
This page was last updated on: September 11, 2004

Logo used without the blessing of Mattel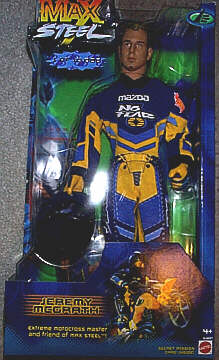 Mattel did a nice job of doing a likeness of Jeremy McGrath.  Who is a seven time AMA  250cc Supercross champion and record holder of most supercross wins.  Click on the banner below the figure to learn more about him.

The above figures were found at Target in Coral Springs, FL